Luxury Housing Projects in Izmir
---
Ağu 23 2023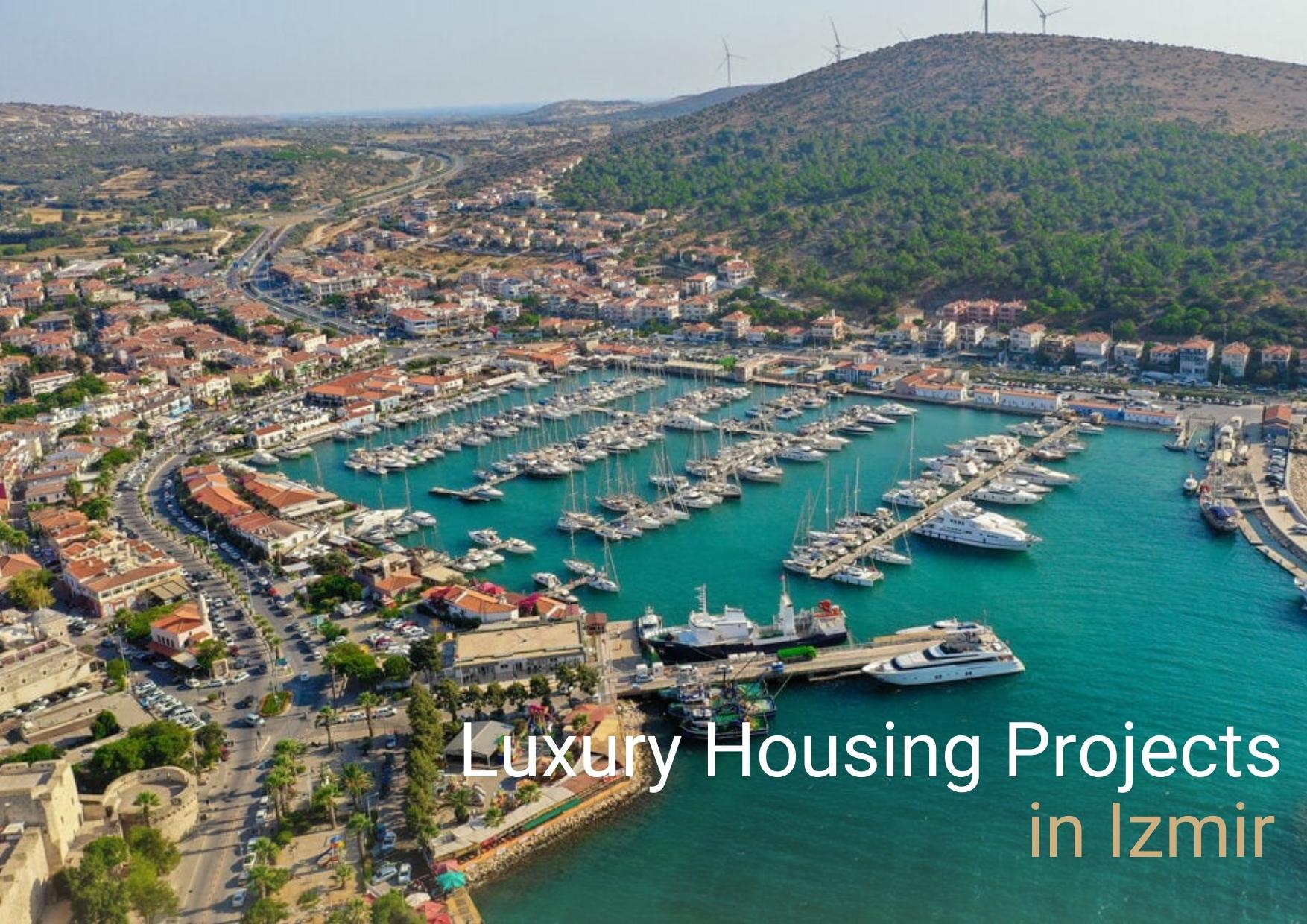 Contents

1. Luxury Housing Projects in Izmir: The City Where Prestige and Comfort Meet
1.1. Overview of Izmir's Luxury Housing Market
1.2. Most Prestigious Housing Projects and Properties
1.3. Sea View Luxury Housing Options
1.3.1. Invictus Sunset Alaçatı
1.3.2. Folkart Izmir Residences
1.4. Luxury Residences with Modern Design
1.5. Luxury Housing Projects Intertwined with Green Areas
1.6. Luxury Residences in the Center of Izmir
1.7. Points to Consider When Buying Luxury Housing
1.8. Purchasing and Investment Opportunities in Izmir
1.9. Luxury Housing Trends and Future Prospects
1.10. Price Ranges of Luxury Houses Offering Unmatched Comfort
1. Luxury Housing Projects in Izmir: The City Where Prestige and Comfort Meet
Izmir, this beautiful city called the pearl of the Aegean, draws attention not only with its historical and natural beauties, but also with its luxury housing projects. Luxury Housing Projects in Izmir combine comfort, which is indispensable for modern life, with sea views, green spaces and unique designs. In this article, we will examine the popular luxury housing projects of Izmir and the advantages offered by these projects.
1.1. Overview of Izmir's Luxury Housing Market
Beyond being a city where history and nature embrace, İzmir has also become a shining star of the luxury housing market. Both domestic and foreign investors started to discover the lifestyle and investment potential offered by İzmir. Luxury housing projects in the city open the doors of not only housing, but also a lifestyle.
1.2. Most Prestigious Housing Projects and Properties
Among the luxury housing projects in Izmir, prestigious projects attract great attention. These projects draw attention with their special locations, contemporary architecture and flawless details. Projects that stand out with the keyword Luxury Housing Projects in İzmir are located in the most beautiful areas of the city and combine comfort and elegance.
1.3. Sea View Luxury Housing Options
In addition to being famous for its coastline, İzmir also draws attention with its luxury housing projects with sea views. Waking up every morning to see the blue waters of the Aegean Sea offers a unique living experience to the owners of luxury residences. Sea view residences combine the comfort of modern life with the beauties of nature.
1.3.1. Invictus Sunset Alaçatı
Invictus Sunset Alaçatı is a luxurious holiday village located in the gem of the Aegean, Alaçatı. With its distinctive architecture, modern design, and unique atmosphere, it offers its guests a dream-like holiday experience. The resort promises an unforgettable stay with elegant accommodations, a private beach area, spa facilities, and delightful restaurants.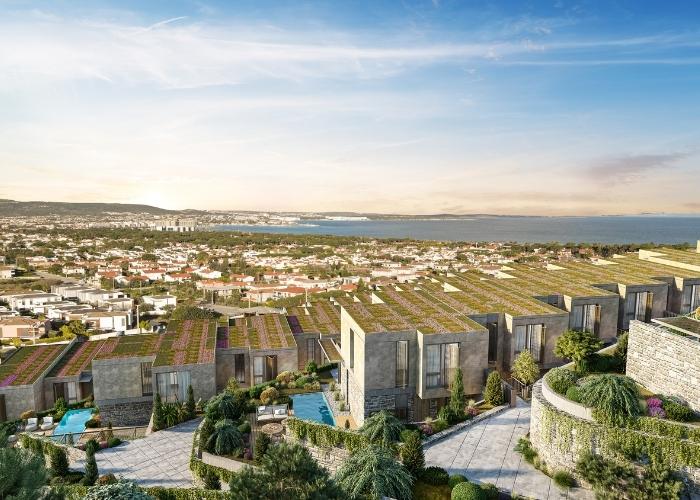 1.3.2. Folkart Izmir Residences
Folkart Izmir is a significant residential and commercial complex that reflects the evolving and modernizing face of Izmir. Situated in the heart of the city, it brings together comfortable living spaces, shopping centers, and business areas. With its modern architecture, sustainable design, and various amenities, Folkart Izmir contributes to the city's dynamic lifestyle.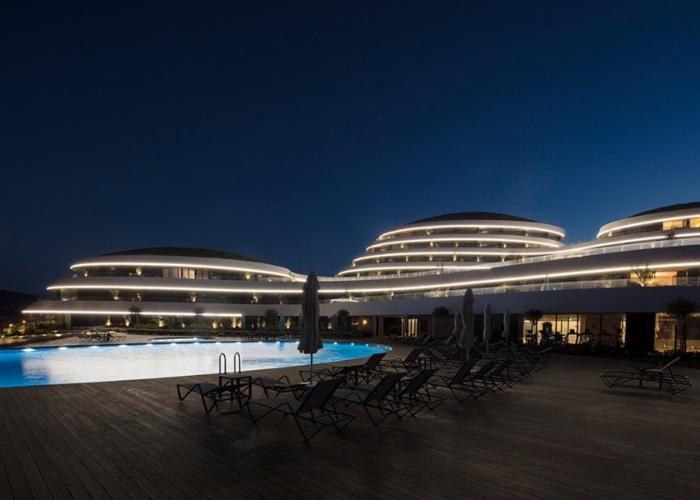 1.4. Luxury Residences with Modern Design
Luxury housing projects in Izmir offer the best examples of not only comfortable but also modern design. Minimalist lines, spacious areas and smart home technologies are among the indispensable features of modern luxury residences in the city. These projects perfect living spaces by combining aesthetics and functionality.
1.5. Luxury Housing Projects Intertwined with Green Areas
For those who want to escape from the hustle and bustle of city life, luxury housing projects in Izmir offer a perfect option. Surrounded by charming gardens, colorful flowers and natural habitats, the residences promise a calm and peaceful life. Projects that stand out with the keyword Luxury Housing Projects in İzmir are an ideal choice for those who want to enjoy nature.
1.6. Luxury Residences in the Center of Izmir
Luxury housing projects located in the central areas of the city offer both being away from the bustling life of the city and easy access to all the amenities of the city. Shopping malls, restaurants, cultural events and more are at the feet of centrally located residents.
1.7. Points to Consider When Buying Luxury Housing
Owning a luxury home is a big step and a process that requires attention. Some of the most important factors to consider when buying a house are; credibility of the project developer, location of the residence, social opportunities and future investment potential. Considering these points, you can step into the luxury residence of your dreams.
1.8. Purchasing and Investment Opportunities in Izmir
Luxury housing projects in Izmir not only offer a comfortable life, but also offer attractive options in terms of future investment potential. The rapidly developing infrastructure, increasing tourism and trade potential in the city increase the value of luxury residences over time. Therefore, luxury residences in İzmir can be seen not only as a residence, but also as an investment in the future.
1.9. Luxury Housing Trends and Future Prospects
The housing sector is a constantly evolving and changing field. Luxury housing projects are also affected by this change and keep up with new trends. Future expectations include more sustainable and energy-efficient houses, more use of smart home technologies, and more functional living spaces.
1.10. Price Ranges of Luxury Houses Offering Unmatched Comfort
Luxury housing projects in Izmir have a wide price range. The location, size, features and facilities of the projects are among the factors affecting the prices. However, it should not be forgotten that high quality and comfort always require a cost. It is important to carefully consider your budget and needs before investing.
As a result, Luxury Housing Projects in Izmir offer private living spaces that meet the needs of modern life and combine aesthetics and comfort. Sea views, green areas, modern designs and investment potential are just a few of the elements that make these projects attractive. If you want to meet these special housing projects of Izmir, it is not difficult to find the life of your dreams.